I got this post from Chris, who has a website called Trains to Beyond, which describes some of the very interestng rail journeys he has made. It's well worth a look.
He wrote to me regarding his father's evacuation from Openshaw to Glossop, right at the beginning of the war. I had to admit that I had no idea that there had been any evacuation form Openshaw. Which is strange, because Openshaw was very heavily industrialised, not just Gorton Tank, but many other engineering works, and would have been an obvious target for enemy bombs.
I can also remember sitting in our cellar, which was our safe place when there were bombs around, and listening to the planes and the explosions. Later on, listening to the doodlebugs sputtering overhead, and hoping the engine kept going till it was past us. And my brother used to pick up bomb shrapnel from the street after these raids.
But the thought of evacuation never occurred to me, and I never heard anyone refer to it.
So Chris has filled in some of he blanks. There was evacuation, to Glossop, and maybe other places, too. How many children were affected, and how long they were away, I don't know.
Perhaps someone else can fill in more information.
Many thanks to Chris for an interesting look back to a different world.
I put Chris's post on the Openshaw Facebook pages and got a big response. It appears that a lot of children were evacuated at the beginning of the war, even if some only stayed away for a short time.
Some interesting replies to my request for information, which are copied below.
My mum and Uncle Alan were evacuated from Abbey St Higher Openshaw to Glossop during WW2. Their surname was Hall.
My dad Keith Baxendale and his brother Gordon were both evacuated to Glossop my dad has fond memories of his time in the country
My mum was evacuated to her aunts house in Marple and my dad and his brother and sister went to a farm in Ashbourne in Derbyshire, my dad loved it and wanted to stay, but his sister was homesick so they all came home.
I was evacuated along with my mother and younger brother Peter to High Lane in Cheshire. I don't remember much about it being only six years old, the only thing that I do remember is sitting in a church with labels round our necks being picked out by the people who were going to house us. We didn't stay long and we were back in Openshaw within a fortnight.
Me and my sister were both evacuated to high Lane in the war, the lady we were with was called Mrs cash, we used to call her aunty.
My late Mum, nee Cecilia Thomas, was 9 years old at the outbreak of WWII. She went to Varna St School and was evacuated to Glossop with her brother and sisters. I think they were only there about six weeks before my Grandma brought them back, she couldn't bear being apart from her beloved kids any longer.
I was evacuated to rose hill marple with my sister Joan from abbey hey in 1939
My mum was 8 when war broke out. She and her siblings were evacuated to Disley, from Victoria Street Openshaw. She suffered a really bad time, as the woman whoo took her in had a spiteful streak and made her life a misery. I know at one point she had my mum's hair chopped really short. It was a time that mum didn't really like to talk about. My dad lived in South street, but his family decided that if there were to die, then at least they would all be together. They stayed in South street throughout the war and dad used to say over the air raid balloons over George street park.
My mam and two of her 12 siblings were evacuated from Bradford/Beswick in 1939
Derek Philpott – Having read the link above I'm even more interested as I was born in Ashton under Lyne, my mother moved from Droylsden to Ashton on marriage in 1950, but I moved to St Annes in 1991.
My great grandparents lived their entire adult lives in Openshaw and were chemists & had their shop on Ashton Old Rd, I think, it became the Latewards chemist on Ashton Old Rd & their son married & lived most of his life on Abbey Hey Lane, Ashton Old Rd end.
I too have been bk to Openshaw with my mum's cousin, Betty, & pretty much done a similar walk around the area as the writer in the link above. Must search out the postcard now, although again similar to writer, I have no history from my mother regarding her time in Glossop.
Message on bk of card.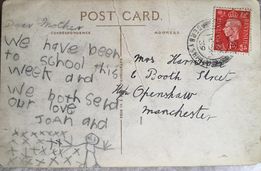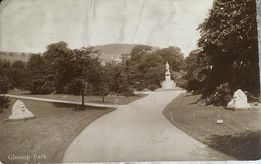 Postcard found & they were def evacuated to Glossop as postcard actually says Glossop Park. It was actually my mum's cousin who sent the card to her mother, well accepted as her mother, rather complicated situ, her actual married father got my grandma's sister pregnant at 16, she was thrown out of family & consequently my mum's cousin, Joan Harrison was taken into her father's household by his wife, who was also pregnant by him at the same time n consequently I'm not sure of her mother's full name other than Mrs Harrison. Any further info regarding these evacuations appreciated.
I was evacuated twice. First to Marple and then to Congleton. First time I ever saw a toothbrush.
We were evacuated to Leek and lived above a bar in a pub.we went back home to Wilson Street Bradford Manchester ,it was much quieter there even with the bombing.
My mum was 7 at the beginning of the war & went to Varna Street School. She was evacuated to Brierfield, near Burnley.
My uncle and 2 cousins were evacuated to Ashbourne, they went to Grange street school, until my Nan found out that their sweet ration was being taken from them, the family decided to bring them home
2021 – UK – "Evacuation Train"
Posted on by trainstobeyond

Retracing my father's evacuation journey from Manchester to Glossop

My family on my father's side first moved to Manchester from rural Cheshire in the 1820s. For over a century they stayed in and around Broughton, in the north of the city, working mainly in the cotton industry.

In the early 1930s, made redundant by the depression, my grandfather moved his wife and two young children to a small corner shop in the industrial inner suburb of Openshaw and set himself up as a baker.

In September 1939, on the eve of World War Two, my father (13) was evacuated out of the city to Glossop in Derbyshire. The whole experience led indirectly to the family leaving Manchester in 1941 to settle on the Fylde Coast.

In June 2021, just after the 3rd COVID lockdown had ended, I decided to retrace my father's footsteps. I had a wander around Openshaw, took a train out to Glossop, and then stayed overnight there.
---
Manchester from Above
Welcome to the skies above England in 1947.
The image below is from the excellent "Britain from above" series and it shows an area about 3 miles east of the centre of Manchester.
We are looking roughly north here and down below is one of Europe's most industrialised suburbs: Gorton and Openshaw. The vast Beyer Peacock locomotive factory (2) is in the foreground and the main LNER Manchester to Sheffield railway line (highlighted in red) runs behind it towards Gorton & Openshaw station (3). On the other side of the tracks is "Gorton Tank", the LNER railway works (1) and behind that is the main local thoroughfare: Ashton Old Road. This road (highlighted in yellow) runs east out of Manchester for about 6 miles to Ashton-under-Lyne. Its junction with Ogden Lane (4) is approximately the midpoint.
The photograph below was taken in 1939 and shows the area around the junction of Ashton Old Road (highlighted again in yellow) and Ogden Lane in a bit more detail. The Halfway House pub (C) is on the south east corner of this junction, the Lord Raglan pub (B) is on the opposite south west corner. The white building is the Regal Cinema (A) just off Ashton Old Road on Old Lane. The Fergus Pailin Electrical Engineering Works (D) can be seen slightly to the north of the cinema.
This is the neighbourhood my father grew up in. The baker's shop where he lived was a few minutes' walk from the Ogden Lane / Ashton Old Road junction. The customers who came into the shop would have included workers from the local factories mentioned above. My father saw some of his first films at the Regal, and he attended a school next to Gorton station. His father would have drunk at the Halfway House or in the Lord Raglan; his mother and older sister would have caught trams (and later trolley buses) that ran along Ashton Old Road into the centre of Manchester.
---
Lime Square
And welcome to Manchester on a Monday in June 2021.
It is just before noon and I am standing on Ashton Old Road near the junction with Ogden Lane. I am looking across to where the Regal Cinema would have been. The scene is totally unrecognisable.
All the buildings on the north side of the main road have been razed to the ground. They have been replaced by "Lime Square", a new retail and leisure complex that includes a Morrison's supermarket, a McDonalds, a gym, a medical centre, a branch of bakery chain Greggs and a station for charging electric vehicles.
Lime Square is certainly not unattractive. As a salute to Openshaw's industrial past, it has an interesting Dropforge sculpture at its centre, but otherwise it is much the same as any other similar modern complex anywhere else in the country. It is the sort of place that I would usually drive into without giving a second thought to what was there before.
Here though, I do know a bit of the history, so as I watch people pushing their Morrison's trolleys full of shopping out to their cars, I know they are passing the exact spot where my father would have queued for the Saturday morning picture show at the Regal almost 90 years ago.
Looking east towards Ashton I can see that the Halfway House pub has sadly, but apparently only recently, been demolished but the view is just about recognisable from old photographs. There is a wooden fence surrounding the demolition site decorated with the words "Rashford 2, Boris 0".
---
Lord Raglan
Happily, the Lord Raglan is still standing. Better still, it is open. I go inside.
I sit down and get a drink. It is lunch time and the pub is filled with locals drinking. A few of them greet me with a bit of friendly banter. I feel very welcome here.
As I drink my pint, I wonder what my father really felt about growing up around here. He certainly never seemed to display any nostalgia for the area. He spent roughly the time from when he was 5 to when he was 15 here, but he never really talked about it at all. He left in 1941, found his own kind of paradise in Lytham St Annes and never once returned to Manchester for the rest of his life.
When I was growing up, he used images of his poor 1930s childhood; the having to make do with sticks for toys, the living on bread and dripping, the pollution, and the poverty, as a way of convincing me that I was extremely lucky to be growing up when I was and where I was. And, of course, he was right about that.
To my father, it almost seemed that "Manchester" was not a place, it was more a word that described an inferior way of life. I never even knew what part of the city the family had lived in until I started to question my aunt about it much later.
---
New Smithfield
I leave the pub and decide to go for a walk around. I plan to make a clockwise loop and I head off west along Ashton Old Road towards the area where the old LNER railway works, "Gorton Tank", once was.
My father's sister was a year older, but she outlived him by two years. After my father's death in 2008, she started to talk more to me about their life together in Openshaw, she gave me the address of the old bakery and encouraged me to try and visit the area.
Although she too had spent the rest of her life living on the Fylde coast, she had made plenty of trips, shopping exhibitions with her friends mainly, back to Manchester and had a soft spot for the place. (for the record, I have visited it often and like the city a lot too!)
After ten minutes' walk, I come to an old wall that must have once stood at the edge of Gorton Tank. The works was established in 1848 by the company that became the Great Central Railway. It was transferred to BR in 1948 and closed in 1963.
Today, the site is occupied by New Smithfield, Manchester's modern wholesale market complex. I pop in for a walk around. It is not really the right time of day (early morning would be best), but it is interesting, nonetheless.
---
Openshaw Memories
Now I go north of Ashton Old Road, heading in a bit of an arc that will take me past the old family bakery and back to my starting point. I walk along a footpath that follows the path of a filled-in canal and I wonder what it would have looked like in the 1930s.
As I walk streets that are lined with a mix of modern and older houses, I am conscious that I have never seen any photographs taken by the family from the time that they lived here.
Luckily, I have discovered the website "Openshaw Memories" which has plenty of images of how the area used to look. It is run by a guy called Derek who was born in the area in 1936 and lived around here until 1960. I have exchanged a few e-mails with him, and he has offered me a few useful pointers for my trip. I am using some of the photographs from his site too.
"Openshaw Memories" is well worth a look, even if you have no connection with the place. It offers a picture of life in inner-city Britain that was lost forever as "deindustrialisation" and "regeneration" took hold in the 1970s and 80s. It is fascinating to read some of the comments from other people who lived in the area. The affection some have for old Openshaw and its community spirit is quite infectious.
---
Hot Pot
After a few more minutes' walk, I reach the building where the family bakery once was. I came here once before about twelve years ago. I made a very fleeting visit on a journey up to St Annes; it was only a five-minute stop; just enough time to take the photograph below to show my aunt.
Back then the building was in a semi-derelict condition with boarded up windows and shutters on the shop front. There was also a police notice plastered on the lamp post in front which warned people not to even think about committing crimes. It all looked pretty ghastly. (I am happy to report the building is now a house and looks much better in 2021)
When she saw the picture, my aunt was quite shocked, but it did prompt her to tell me a bit more about the time when she lived there. She explained that my grandfather, a dyed goods salesman, had no previous experience of baking and he and my grandmother had needed to learn fast. The previous owners had offered a bit of instruction but it had been a big struggle at first.
She told me that making a living from the shop was tough, especially in the early 30s when unemployment was at its highest. In common with many bakeries at the time, they offered the use of their bread ovens during the day to customers. People heading off to work would bring homemade hot pots and pay a very small fee. In the evening, the hot food would be picked up ready to eat.
---
Meat and Potato Pie
The thought of the bakery is making me hungry, so I head back towards Lime Square and contemplate my options. It must be a meat and potato pie, I decide.
I resolve to try my luck along Ashton Old Road, and head off in the opposite direction, away from Manchester. This was once a kind of high street for Higher Openshaw, and it is lined with shops that probably would have been grocers, butchers, ironmongers, tailors, and chemists. Now, much like everywhere else in Britain, the provision of life's necessities has been taken over by the supermarkets and shopping centres like Lime Square, so streets like this have been relegated to a secondary role.
As I walk, I find small shops selling mobile phones, carpets and tropical fish, as well as a larger one selling foods from all around the world. There is also a bookmaker's, a massage salon and several takeaway places. I am in luck, though, because half way down I spot a bakery. I get my pie and it is quite delicious.
By the summer of 1939, my father was still at school but my aunt (then 14) had already left and was helping in the shop. The discussions about her getting a job in Manchester were suddenly overshadowed by the deterorating international situation; by August it seemed that war was inevitable. Openshaw, with its heavy industry, would be a target for the bombing that was expected almost the minute war was declared.
---
Daydream Believer
It is almost time to leave Openshaw and so I set off to walk to the railway station. On the way, I have one last stop to make: Varna Street School. This is the school that my father attended and it is still standing and still a school / arts college today.
Varna Street's most celebrated former student is Davy Jones (1945-2012), member of the 60s pop group "The Monkees" and probably Openshaw's most famous son. He was born just around the corner from here and got his first break as an actor on early episodes of Coronation Street in Manchester.
It was from this school that my father (13) was evacuated in September 1939. Although his older sister would be remaining in Openshaw, he was not travelling alone. Back in 1934 the family had welcomed a new arrival, another son, and now it was my father's task to look after his 5-year-old baby brother on the journey that lay ahead.
---
Pied Piper
I have been doing a little research into the evacuation and I have managed to track down the "logbook" that Varna Street School made of the whole experience. It is kept in the Manchester city archives and I have made an appointment to go to the search room at the impressive central library to inspect it.
Long before September 1939, it had been decided that Varna Street School would be evacuated to the West End School in the town of Glossop in Derbyshire less than 15 miles away. The logbook, all completed in beautiful handwriting, gives a day-by-day account of all the preparations for the trip and a full list of the events and experiences at the destination.
The evacuation of children from Britain's major cities just prior to the outbreak of war on 3rd September 1939 was a very well-organised affair. It had been given the name "Operation Pied Piper" and had been in planning well in advance of the conflict. By 1939 a system of reception locations in rural and coastal areas had already been organised.
Schools from cities that were expected to be bombed would be evacuated to schools in safer areas. The children and teachers would be expected to travel together, and then at the reception location they would be billeted with host family volunteers. They would then use part of the host school premises to continue their studies each day.
In the first three days of the war over 800,000 children and 100,000 teachers were moved; in the end over 3 million people were evacuated. The system was voluntary, and parents could opt to keep their children at home. Levels of participation varied but it was generally lower than expected. In Manchester's case only about 60% of children left the city. In many cases the evacuation destinations were a long way from home (Blackpool, 50 miles away, was a popular choice for Manchester schools, for example).
---
To Glossop
Although there was a regular direct train service linking Gorton & Openshaw with Glossop back in 1939, my father and his brother would have travelled to Glossop on one of the four special trains that were hastily organised for Friday 1st and Saturday 2nd September following Hitler's invasion of Poland. According to the logbook, the school had even practiced going down from the school to the station platform on Thursday 31st of August.
Today I am making the same journey myself. Unfortunately due to "progress" there are not many direct trains anymore, so I will need to change at Guide Bridge (2 stops away). Even with the change though it should take me only about 35 minutes
.
---
Journey
It is a nice run out to Glossop and after Guide Bridge the train certainly does not waste any time in getting out of the city. The scenery soon gets greener and before long the Pennine hills come in to view in the distance.
As the train trundles across the great viaduct at Dinting and heads down the little branch line into Glossop, I wonder just how my father must have felt to leave Manchester for the first time in his life. Glossop must have seemed like a different world.
As the train pulls up at the little terminus, I cannot help recalling the hit film of 1939: The Wizard of Oz. I am not sure if it ever played at the Regal, but with his little brother for company instead of Toto the dog, my father must have suddenly realised that he was not in Openshaw anymore.
---